Resort and Transportation
How do I get from the airport to The Phoenician?
The Phoenician Resort has no shuttle, so you can drive, Uber\Lyft, or take a cab - it's about 20 minutes away.
Here is a link to Google Maps
You can actually see Camelback Mountain from the airport - that's about where you're going
Are there extra charges for parking?
The Phoenician offers both valet and self-parking for resort guests:
Overnight service is $33 per evening.
Self-parking is offered at $18 per night.
Are there extra charges for Wi-Fi?
Wi-Fi is free in the conference area for attendees. Wi-Fi is also free in the resort for resort guests. It would help everyone if you set your Win10 updates to pause for the week.
What if I want to stay extra nights at the resort—is there a deal?
We want you to enjoy your stay at the resort! Your MMS DE registration includes Sun\Mon\Tue nights. Should you wish to extend your stay, days before and after that can be obtained by calling the resort directly to add on to your reservation (at your cost) or online using our special link.
What if I want to stay elsewhere, can I still attend?
Sorry, but we have a high room commitment for MMS DE which is why we have only one ticket type. Local attendees only: you can email us with proof of being local for a non-hotel code (limited number available). Due to our room night commitment, we cannot extend this code to others.
Conference Logistics
Where will the conference be held?
3rd floor of the resort. Registration will be just out front of ballrooms A,B,C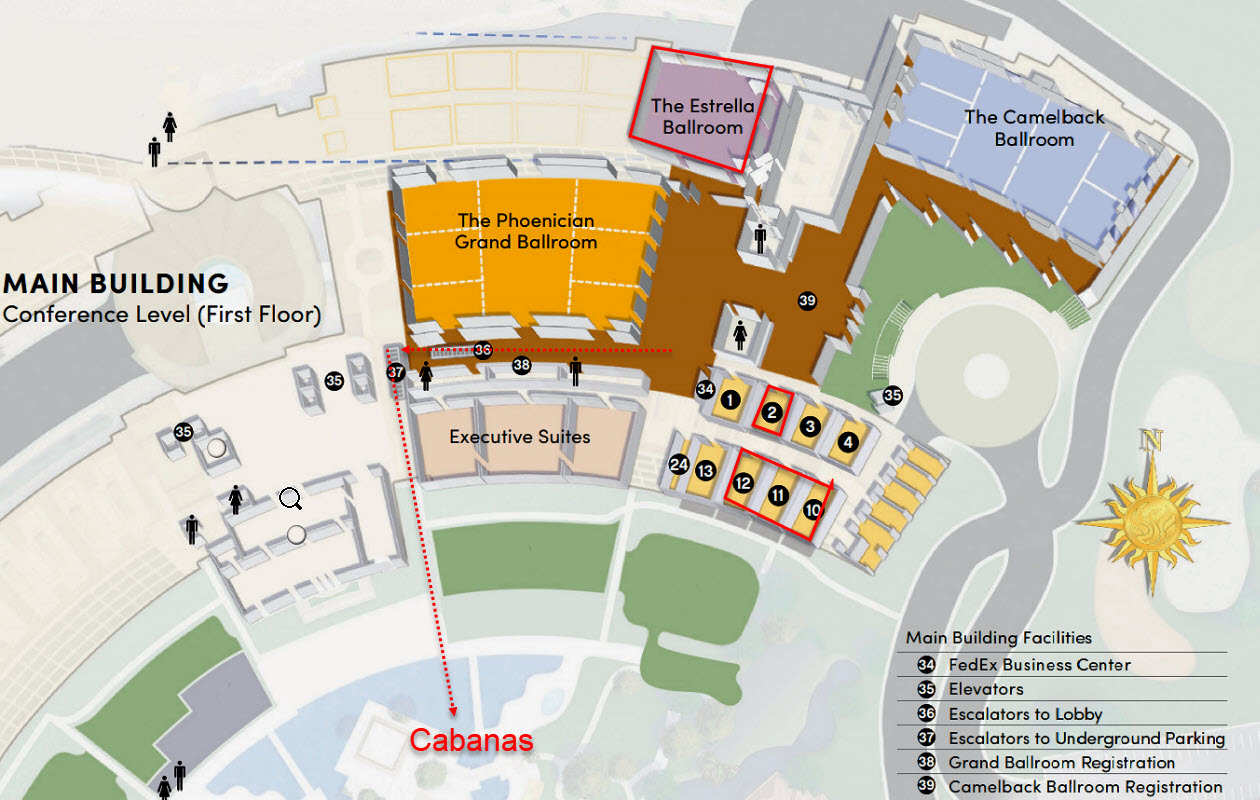 Is the conference handicap accessible?
Yes! Please contact The Phoenician for specific questions.
How long is the walk from The Phoenician resort rooms to the conference center?
This isn't Vegas-style—you'll get there in a minute or two walk from the elevator bank.
Where do I eat?
From from private to casual dining, catering, and beyond, The Phoenician offers eight delicious dining options. Note that unlike the MOA event, we're planning outdoor lunches on Monday and Tuesday. Breakfast and dinner will still be on your own, with ample options available at the Phoenician. And talk to the sponsors - they might be putting on some dinners.
What is included with the room?
A daily resort fee of $29.00 will be waived for MMS and the following services will be offered complimentary:
Wired and wireless Internet access in guestrooms and all public areas
Daily newspapers
Unlimited local, long distance (US) and toll-free 800 number calls from guestrooms
Access to Athletic Center/ Fitness Center 24/7
Complimentary bicycle rental (2-hour period, includes helmet) guests 16 and older only
In-room coffee and tea
May I bring my family?
Of course! The Phoenician is very family friendly. However, only attendees with a badge will be permitted in the conference center.
How can I offer feedback?
Everyone involved with the Midwest Management Summit wants to ensure this is a successful event. You will receive a survey to complete at the end of the summit. If you have something urgent, please contact us at This email address is being protected from spambots. You need JavaScript enabled to view it..
Do you accept PayPal or Purchase Orders?
Yes. Please view the registration page to pay by credit card. If you need an alternative method to pay, please contact us at This email address is being protected from spambots. You need JavaScript enabled to view it..
When should I arrive/depart?
Unlike many other conferences, MMS will begin early on the first day, Monday Dec 3rd, but arrive on Sunday, Dec 2nd so you can make the welcome reception at 5pm. Check twitter (#MMSMOA) to find colleagues and connect the evening before the conference begins (you'll find many of us at the Thirsty Camel). Also, sessions will run until 8PM on Tuesday, Dec 4th. The airport is only 20 min from the resort. The MMS staff and sponsors will more-than-likely have some impromptu social gatherings on Tuesday, Dec 4th — spend an extra night and enjoy more geek-speak!
Can I sponsor?
Yes, email us for a link to our sponsor portal.
Can I volunteer?
Possibly. Send us an email at This email address is being protected from spambots. You need JavaScript enabled to view it., with information on how you would like to help.
Conference Sessions
Why should I attend this Desert Edition of MMS?
If you are able to attended the full 4-Day event in May, do so! But if you just missed it, if it was sold out, if you have some personal or work conflict, or if you just like the idea of a warm resort in December, then this 2-Day Desert Edition is for you.
This MMS still maintains many of the hallmarks that make MMS great: 2-speaker sessions, long Q&A, etc. We'll catch you up on what you might have missed from May and probably more importantly, we offer the opportunity to network with your peers — this is something that is nearly impossible at large conferences. Network with peers, share war stories, brain storm, and share best practices.
Will there be new content at MMS DE or all a repeat from MMS MOA?
Since our world changes every day, there will undoubtedly be fresh, new content at MMS DE. However, if you attend both MOA and DE, you will find some content repeated at DE (that we wouldn't repeat at the next MOA).
What is an MVP?
This is an annual award by Microsoft to recognize industry leaders – check out the MVP site.
What is the advantage to attending MMS vs. the Microsoft Official Curriculum (MOC) course?
MOC courses are great for someone new to a technology. Consider the MOC course a level 200 session. MMS will be level 300, 400, and 500 sessions, and dive into the products in ways you won't find in a course. Honestly, the value of attending MMS is epic—learning one useful tip (whether in a formal session or brainstorming with peers) in four days is well worth the price of admission.
When is the keynote session? I don't see it on the agenda.
…And you won't see a keynote session here. Catch the Microsoft keynotes for Ignite and other conferences on http://channel9.msdn.com/. MMS is at the 10 foot view, not that 1,000-foot view.
Where are the instructor-led and self-paced labs?
No labs at MMS—Attend sessions and do labs on your own time – visit the Microsoft Virtual Academy for some nice System Center labs.
Are the sessions recorded?
No. Attend the sessions and engage with presenters and attendees during the summit to maximize your summit experience. We encourage you to not sit with your laptop open to work (sure if you get some emergency go ahead), but instead want you engaged with the speaker. We're small enough that you can often call out for a quick clarification. Please no recording of any sessions with your phones
Is there an online alternative?
No. As mentioned previously, a significant value from MMS can be obtained just by being here and engaging with your peers. There is no online alternative to the opportunity to discuss your challenges, as well as meet people face to face.
Why only 250 attendees?
The Midwest Management Summit was created to help foster the community that is lost in larger conferences. We want you to get to know people, share ideas, and not get lost in the crowd. No wallflowers! We want you to have time to ask questions at the end of a session, as well as participate in several Nerds of a Feather sessions. At just 250 attendees (including speakers), this is the most intimate of conferences.
What is a Nerds of a Feather (NoF) session?
NoF sessions are more of a two-way communication session, as compared to traditional presentations. It's more about having a leader to moderate discussion, and enable you to share ideas among a group of people with a common interest. You will find that many sessions at MMS will end will a brief NoF experience to help you engage and share knowledge. You will also be able to attend NoF sessions each day. We all have something to share, and we can all learn from each other.
Is there a closing party?
There is no formal closing party hosted by MMS (but there is a welcome reception Sunday evening). Keep an eye on twitter (#MMSMOA), as well as converse with attendees to find out where attendees (and staff) are congregating. Many sponsors throw some great parties too so talk to them!
Is there Wi-Fi in the breakout rooms?
Yes, but it can get saturated quickly if everyone opens their laptop and starts working. Try to limit your use for this reason alone-you or your company is paying you to come learn, not logon and work!
Are there power outlets in the breakout rooms?
No. Be sure to charge your devices before the day starts.
How large are the breakout rooms?
Room size varies from 35 – 100 attendees, ensuring a community-feel for all.
What if I cancel registration?
Unfortunately, we cannot refund your registration cost after Nov 2nd. If you would like to send someone to fill your seat, contact us at This email address is being protected from spambots. You need JavaScript enabled to view it..
What is included with registration?
Like many technical answers, "it depends." You can choose the package with resort and/or take advantage of the early bird special. Registration will include access to all sessions, vendor expo, and a limitless amount of conversations with your peers- this one is priceless.
What is the level of content presented?
That's a great question! Let's start by saying that the info you learn in sessions at MMS, is probably not in a book, in the Microsoft Official Curriculum, or in TechNet documentation. The intent of MMS is to provide training and knowledge share for IT pros who have already mastered the standard training channels. MMS will help take your skills to the next level.
My company says they can't afford registration, now what do I do?
If this conference is relevant to what you do for a living, then there is no reason you can't pay for this out of pocket. Registration with resort, your meals, and your travel expenses can all be written off your taxes. Talk to your tax preparer or CPA for more information. Don't let that stop you from joining us!
Is there HDMI on the room TVs in case I want to hook up my laptop?
Yep!